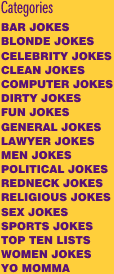 JOKE OF THE WEEK
Our free jokes will leave you in stitches! Hey, we thought that every joke on the net was free, however we noticed that a lot of you searched the engines using the term free joke, so we add this category!

Grandpa and grandma were watching the television evangelical show and the preacher said, if the viewers at home wanted to be healed, place one hand on the television set and the other hand on the body part where they wanted to be healed.
Grandma got up and slowly hobbled to the television set, placed her righthand on the set and her left hand on her arthritic shoulder that was causing her to have great pain.

Then Grandpa got up, went to the TV, placed his right hand on the set and his left hand on his crotch.

Grandma scowled at him and said, "I guess you just don't get it. The purpose of doing this is to heal the sick, not to raise the dead."
---
One night, a Delta twin-engine puddle jumper was flying somewhere above New Jersey. There were five people on board: the pilot, Michael Jordan, Bill Gates, the Dali Lama, and a hippie. Suddenly, an illegal oxygen generator exploded loudly in the luggage compartment, and the passenger cabin began to fill with smoke. The cockpit door opened, and the pilot burst into the compartment.

"Gentlemen," he began, "I have good news and bad news. The bad news is that we're about to crash in New Jersey. The good news is that there are four parachutes, and I have one of them!" With that, the pilot threw open the door and jumped from the plane.

Michael Jordan was on his feet in a flash. "Gentlemen," he said, "I am the world's greatest athlete. The world needs great athletes. I think the world's greatest athlete should have a parachute!" With these words, he grabbed one of the remaining parachutes, and hurtled through the door and into the night.

Bill Gates rose and said, "Gentlemen, I am the world's smartest man. The world needs smart men. I think the world's smartest man should have a parachute, too." He grabbed one, and out he jumped. The Dali Lama and the hippie looked at one another. Finally, the Dali Lama spoke. "My son," he said, "I have lived a satisfying life and have known the bliss of True Enlightenment. You have your life ahead of you; you take a parachute, and I will go down with the plane."

The hippie smiled slowly and said, "Hey, don't worry, pop. The world's smartest man just jumped out wearing my backpack."
---
A young bride and groom-to-be had just selected their wedding rings. As the young lady admired the plain platinum and diamond band she had chosen for herself, she suddenly looked concerned. "Tell me," she asked the rather elderly salesman, "is there anything special I'll have to do to take care of this ring?" With a fatherly smile, the salesman said, "one of the best ways to protect a wedding ring is to soak it in dishwater."
---
A woman walks into the store and purchases the following: 1 small box of detergent
1 Bar of soap
3 individual servings of yogurt
2 oranges
1 stick of women's deodorant.
She then goes to the check out line.

Cashier: Oh, you must be single
Woman: You can tell that by what I bought?
Cashier: No, you're fucking ugly!
---
The Short History of Medicine

2000 B.C. - Here, eat this root
1000 A.D. - That root is heathen. Here, say this prayer.
1850 A.D. - That prayer is superstition. Here, drink this potion.
1940 A.D. - That potion is snake oil. Here, swallow this pill.
1985 A.D. - That pill is ineffective. Here, take this antibiotic.
2000 A.D. - That antibiotic doesn't work any more. Here, eat this root.
---
A guy goes to a doctor and says, "Doc, you've got to help me. My penis is orange." Doctor pauses to think and asks the guy to drop his pants so he can check. Damned if the guy's penis isn't orange. Doc tells the guy, "This is very strange. Sometimes things like this are caused by a lot of stress in a person's life."

Probing as to the causes of possible stress, the doc asks the guy, "How are things going at work?" The guy responds that he was fired about six weeks ago. The doctor tells him that this must be the cause of the stress. Guy responds, "No. The boss was a real asshole, I had to work 20-30 hours of overtime every week and I had no say in anything that was happening. I found a new job a couple of weeks ago where I can set my own hours, I'm getting paid double what I got on the old job and the boss is a really great guy." So the doc figures this isn't the reason.

He asks the guy, "How's your home life?" The guy says, "Well, I got divorced about eight months ago." The doc figures that this has got to be the reason for all of the guys stress. Guy says, "No. For years, all I listened to was nag, nag, nag. God, am I glad to be rid of that old bitch." So the doc takes a few minutes to think a little longer.

He inquires, "Do you have any hobbies or a social life?" The guy replies, "No, not really. Most nights I sit home, watch some porno flicks and munch on Cheetos."
---
It seems that life goes by resembling somewhat of a bell curve of what is considered successful...

At age 4...success is...not peeing in your pants.
At age 10...success is...making your own meals.
At age 12...success is...having friends.
At age 16...success is...having a drivers license.
At age 20...success is...having sex.
At age 35...success is...having money.
At age 50...success is...having money.
At age 60...success is...having sex.
At age 70...success is...having a drivers license.
At age 75...success is...having friends.
At age 80...success is...making your own meals.
At age 85...success is...not peeing in your pants.
---
Tell your momma to stop changing her lipstick color , I'm getting a fucking rainbow on my dick!
---
Little Johnny was sitting in class with his fellow peers. The teacher of the class asked for a volunteer to say a full sentence about their parents. When no one raised their hand, the teacher called on Little Johnny to say the full sentence. He replied with "Hummm... Well... My Dad eats light bulbs." The teacher looked at Johnny strangely and said "Oh no, Johnny, your dad doesn't eat light bulbs, that's absurd" Johnny argued back, "Yeah huh, last night daddy said to mommy, 'oh honey, turn off that lamp and let me eat that thing'"
---
A young girl was going on a date. Her grandmother said: "Sit here and let me tell you about those young boys. He is going to try and kiss you, you are going to like that, but don't let Him do that. He is going to try and feel your breast, you are going to like that but don't let him do that. But most important, he is going to try and get on top of you to have his way with you. You are going to like that, but don't let him do that. It will disgrace the family."

With that bit of advice, the granddaughter went on her date. The next day she told grandma that her date went just like she had predicted: Grandma, I didn't let him disgrace the family. When he tried, I just turned over, got on top of him, and disgraced HIS family..."

Granny fainted.
---
NEW YEAR'S RESOLUTIONS YOU CAN KEEP

Are you sick of making the same resolutions year after year that you never keep? Why not promise to do something you can actually accomplish? Here are some resolutions that you can use as a starting point:

1. Gain weight. At least 30 pounds.

2. Stop exercising. Waste of time.

3. Read less. Makes you think.

4. Watch more TV. I've been missing some good stuff.

5. Procrastinate more. Starting tomorrow.

6. Not date any of the Baywatch cast.

7. Spend more time at work, surfing with the T1.

8. Take a vacation to someplace important: like, to see the largest ball of twine.

9. Not jump off a cliff just because everyone else did.

10. Stop bringing lunch from home: I should eat out more.

11. Not have eight children at once.

12. Get in a whole NEW rut!

13. Start being superstitious.

14. Personal goal: bring back disco.

15. Not wrestle with Jesse Ventura.

16. Not bet against the Minnesota Vikings.

17. Buy an '83 Eldorado and invest in a really loud stereo system.

18. Get the windows tinted. Buy some fur for the dash.

19. Speak in a monotone voice and only use monosyllabicwords.

20. Only wear jeans that are 2 sizes too small and use a chain or rope for a belt.

21. Spend my summer vacation in Cyberspace.

22. Not eat cloned meat.

23. Create loose ends.

24. Get more toys.

25. Get further in debt.

26. Not believe politicians.

27. Break at least one traffic law.

28. Not drive a motorized vehicle across thin ice.

29. Avoid transmission of inter-species diseases.

30. Avoid airplanes that spontaneously drop 1000 feet.

31. Stay off the MIR space station.

32. Not worry that the Y2K bug will cause the end of the world.

33. Get wired with high-speed net connections at home.

34. Not swim with piranhas or sharks.

35. Associate with even worse business clients.

36. Spread out priorities beyond my ability to keep track of them.

37. Wait around for opportunity.

38. Focus on the faults of others.

39. Mope about my faults.

40. Never make New Year's resolutions again.
---
After being with her all evening, the man couldn't take another minute with his blind date. Earlier, he had secretly arranged to have a friend call him to the phone so he would have an excuse to leave if something like this happened.

When he returned to the table, he lowered his eyes, put on a grim expression and said, "I have some bad news. My grandfather just died."

"Thank heavens," his date replied. "If yours hadn't, mine would have had to!"
---
A blind man was traveling in his private jet when he detected something was wrong. He made his way to the cockpit and got no response from his pilot. The blind guy then found the radio and started calling the tower. "Help! Help!" The tower came back and asked, "What's the problem?" The blind guy yelled, "Help me! I'm blind... the pilot is dead, and we're flying upside down!" The tower comes back and asked, "How do you know you're upside down?" "Because the shit is running down my back!"
---
And remember that children laugh an average of 146 times a day; adults laugh an average of 4 times a day.

Put more laughter in your day.
You may also like...