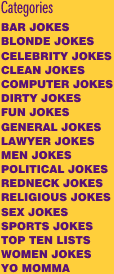 JOKE'S
Our joke's will leave you in stitches! Did we miss a joke that is hilarious that maybe you have? Submit it to us and we'll add it to our popular joke's page. Check out our dirty joke's, blondes joke's and our other joke sex-tions.
Deep within a forest, a little turtle began to climb a tree. After hours of effort, he reached the top, jumped into the air waving his front legs and crashed to the ground. After recovering, he slowly climbed the tree again, jumped, and fell to the ground. The turtle tried again and again, while a couple of birds sitting on a branch watched his sad efforts. Finally, the female bird turned to her mate. "Dear," she chirped, "I think it's time to tell him he's adopted."
---
The class assignment in composition was to write about something unusual that happened during the past week. Little Irving got up to read his. "Papa fell in the well last week - " he began. "Good heavens," shrieked Mrs. Kroop, the teacher. "Is he all right now?" "He must be," said little Irving. "He stopped yelling for help yesterday."
---

A rabbit one day managed to break free from the laboratory where he had been born and brought up. As he scurried away from the fencing of the compound, he felt grass under his little feet and saw the dawn breaking for the first time in his life. "Wow, this is great," he thought. It wasn't long before he came to a hedge and, after squeezing under it he saw a wonderful sight: lots of other bunny rabbits, all free, having fun and nibbling at the lush grass.

Hey," he called. "I'm a rabbit from the laboratory and I've just escaped. Are you wild rabbits?"

"Yes. Come and join us," they cried. Our friend hopped over to them and started eating the grass. It tasted so good, unlike his tasteless food he grew up with. "What else do you wild rabbits do?" he asked. "Well," one of them said. "You see that field there? It's got carrots growing in it. We dig them up and eat them." This he couldn't resist and he spent the next hour eating the most succulent carrots. They were wonderful. Later, he asked them again, "What else do you do?"

"You see that field there? It's got lettuce growing in it. We eat them as well." The lettuce tasted just as good and he returned a while later completely full. "Is there anything else you guys do?" he asked. One of the other rabbits came a bit closer to him and spoke softly. "There's one other thing you must try. You see those rabbits there," he said, pointing to the far corner of the field. "They're girls. We shag them. Go and try it." Well, our friend spent the rest of the morning screwing his little heart out until, completely knackered, he staggered back over to the guys. "That was fantastic," he panted. "So are you going to live with us then?" one of them asked. "I'm sorry, I had a great time but I can't." The wild rabbits all stared at him, a bit surprised. "Why? We thought you liked it here."

"I do," our friend replied. "But I must get back to the laboratory. I'm dying for a cigarette."


---

The patient says, "Give me the bad news first!"
Doctor replies, "You've got AIDS."
"Oh, no! What could be worse than that?" asks the patient.
"You've also got Alzheimer's Disease."
Looking relieved the patient says, "Oh...Well, that's not so bad. At least I don't have AIDS."


---
Try saying these 10 times fast...
Caution Golfers Crossing
Sun Shine City
Toy Boat
Unique New York
Mixed Biscuits
Red Leather, Yellow Leather
---
Top 10 Things to do at the Mall
10. At the bottom of an escalator, scream "MY SHOELACES! AAAGH!"
9. At the stylist, ask to have the hair on your back permed.
8. Ask a saleswoman whether a particular shade of panties matches the color of your beard.
7. Sneak up on saleswomen at the perfume counter and spray them with your own bottle of Eau de Swanke.
6. Collect stacks of paint brochures and hand them out as religious tracts.
5. At the pet store, ask if they have bulk discounts on gerbils, and whether there's much meat on them.
4. Hand a stack of pants back to the changing room attendant and scornfully announce that none of them are "leak proof".
3. Ask appliance personnel if they have any TVs that play only in Spanish.
2. Try pants on backwards at the Gap. Ask the salesperson if they make your butt look big.
1. Show people your driver's license and demand to know "whether they've seen this man."

---

TOP 10 REASONS WHY SOME MEN FAVOR HANDGUNS OVER WOMEN

10 - YOU CAN TRADE IN AN OLD 44 FOR A NEW 22, NO QUESTIONS ASKED.

9 - YOU CAN KEEP ONE HANDGUN AT HOME, AND HAVE ANOTHER FOR WHEN YOU'RE
ON THE ROAD.

8 - IF YOU ADMIRE A FRIEND'S HANDGUN AND TELL HIM SO, HE WILL PROBABLY LET YOU TRY IT OUT A FEW TIMES.

7 - YOUR PRIMARY HANDGUN DOESN'T MIND IF YOU KEEP ANOTHER HANDGUN FOR A BACK UP.

6 - YOUR HANDGUN WILL STAY WITH YOU EVEN IF YOU RUN OUT OF AMMO.

5 - A HANDGUN DOESN'T TAKE UP A LOT OF CLOSET SPACE.

4 - HANDGUNS FUNCTION NORMALLY EVERY DAY OF THE MONTH.

3 - A HANDGUN DOESN'T ASK, "DO THESE NEW GRIPS MAKE ME LOOK FAT?"

2 - A HANDGUN DOESN'T MIND IF YOU GO TO SLEEP AFTER YOU USE IT.

1 - YOU CAN BUY A SILENCER FOR A HANDGUN.


---
Two Cows
DEMOCRAT
You have two cows.
Your neighbor has none.
You feel guilty for being successful.
Barbara Streisand sings for you.
REPUBLICAN
You have two cows.
Your neighbor has none.
So?
---
Things people actually said in court, word for word:
Q: What is your date of birth?
A: July fifteenth.
Q: What year?
A: Every year.
Q: What gear were you in at the moment of the impact?
A: Gucci sweats and Reeboks.
---
A judge in a semi-small city was hearing a drunk-driving case and the defendant, who had both a record and a reputation for driving under the influence, demanded a jury trial. It was nearly 4 P. M. And getting a jury would take time, so the judge called a recess and went out in the hall looking to impanel anyone available for jury duty. He found a dozen lawyers in the main lobby and told them that they were a jury. The lawyers thought this would be a novel experience and so followed the judge back to the courtroom.

The trial was over in about 10 minutes and it was very clear that the defendant was guilty. The jury went into the jury room, the judge started getting ready to go home, and everyone waited. After nearly three hours, the judge was totally out of patience and sent the bailiff into the jury-room to see what was holding up the verdict.

When the bailiff returned, the judge said, "Well have they got a verdict yet?"
The bailiff shook his head and said, "Verdict? Hell, they're still doing nominating speeches for the foreman's position!"
---
In a courtroom, a pursesnatcher is on trial and the victim is stating what happened. She says, "Yes, that is him. I saw him clear as day. I'd remember his face anywhere." At which point, the defendant bursts out, "You couldn't see my face, lady. I was wearing a mask!"

---
Q. What is the difference between a bachelor and a married man?
A. Bachelor comes home, sees what's in the refrigerator, goes to bed. Married man comes home, sees what's in the bed, and goes to the refrigerator.
---
An Amish boy and his father were visiting a mall. They were amazed by almost everything they saw, but especially by two shiny, silver walls that could move apart and back together again. The boy asked his father, "What is this, Father?" The father [never having seen an elevator] responded "Son, I have never seen anything like this in my life, I don't know what it is."

While the boy and his father were watching wide-eyed, an old lady in a wheel chair rolled up to the moving walls and pressed a button. The walls opened and the lady rolled between them into a small room. The walls closed and the boy and his father watched small circles of lights with numbers above the walls light up. They continued to watch the circles light up in the reverse direction.

The walls opened up again and a beautiful 24-year-old woman stepped out. The father said to his son, "Go get your mother."
---
Canadian Joke - Hey, we love you people up north, but, I'm sorry you'd almost have to be a Canadian to appreciate this joke. (we've been told by some Canadians that this is possibly the funniest Canuck joke yet?) Go figure?

A Canadian is drinking in a New York bar.... He gets a call on his cell phone. He hangs up, grinning from ear to ear & orders a round of drinks for everybody in the bar because, he announces, his wife has just produced a typical Canadian baby boy weighing 25 pounds. Nobody can believe that any new baby can weigh in at 25 pounds but the Canadian just shrugs, "That's about average up North, folks. Like I said, my boy's a typical Canadian baby boy."
Congratulations showered him from all around & many exclamations of "WOW!" were heard. One woman actually fainted due to sympathy pains. Two weeks later the Canadian returns to the bar. The bartender says "Say, you're the father of that typical Canadian baby that weighed 25 pounds at birth, aren't you? Everybody's been makin' bets about how big he'd be in two weeks. We were gonna call you... so how much does he weigh now?"
The proud father answers, "Seventeen pounds." The bartender is puzzled & concerned. "What happened? He already weighed 25 pounds the day he was born." The Canadian father takes a slow swig from his Molson Canadian, wipes his lips on his shirt sleeve, leans into the bartender & proudly says, "Had him circumcised".
---
The Travel Agent

For thirty Years I have been a Travel Agent, serving our legislators and their staffs. This is how I know we're in trouble!

I had a New Hampshire Congresswoman ask for an aisle seat on the plane, so that her hair wouldn't get messed up by being near the window.

I got a call from a candidate's staffer, who wanted to go to Capetown. I started to explain the length of the flight and the passport information. Then she interrupted me with, "I'm not trying to make you look stupid, but Capetown is in Massachusetts." Without trying to make her look like the stupid one, I calmly explained, "Cape Cod is in Massachusetts, Capetown is in Africa." Her response .(click).

A senior Vermont Congressman called, furious about a Florida package we did. I asked what was wrong with the vacation in Orlando. He said he was expecting an ocean-view room. I tried to explain that is not possible, since Orlando is in the middle of the state. He replied, "Don't lie to me, I looked on the map, and Florida is a very thin state."

I got a call from a lawmaker's wife who asked, "Is it possible to see England from Canada?" I said, "No." She said, "But they look so close on the map."

An aide for a Bush cabinet member once called and asked if he could rent a car in Dallas. When I pulled up the reservation, I noticed he had only a 1-hour layover in Dallas. When I asked him why he wanted to rent a car, he said, "I heard Dallas was a big airport, and we will need a car to drive between the gates to save time."

An Illinois Congresswoman called last week. She needed to know how it was possible that her flight from Detroit left at 8:20 a.m. and got into Chicago at 8:33 a.m. I tried to explain that Michigan was an hour ahead of Illinois, but she could not understand the concept of time zones. Finally, I told her the plane went very fast, and she bought that!

A New York lawmaker called and asked, "Do airlines put your physical description on your bag so they know whose luggage belongs to whom?" I said, " No, why do you ask?" She replied, "Well, when I checked in with the airline, they put a tag on my luggage that said 'FAT' and I'm overweight. I think that is very rude." After putting her on hold for a minute while I 'looked into it' (I was actually laughing) I came back and explained the city code for Fresno, CA is (FAT), and that the airline was just putting a destination tag on her luggage.

A Senator's aide called to inquire about a trip package to Hawaii. After going over all the cost info, she asked, "Would it be cheaper to fly to California and then take the train to Hawaii?"

I just got off the phone with a freshman Congressman who asked, "How do I know which plane to get on?" I asked him what exactly he meant, to which he replied, "I was told my flight number is 823, but none of these darn planes have numbers on them."

A lady Senator called and said, "I need to fly to Pepsi-Cola, FL. Do I have to get on one of those little computer planes?" I asked if she meant fly to Pensacola, FL on a commuter plane. She said, "Yeah, whatever!"

A senior Senator called and had a question about the documents he needed in order to fly to China. After a lengthy discussion about passports, I reminded him that he needed a visa. "Oh, no I don't. I've been to China many times and never had to have one of those." I double checked and sure enough, his stay required a visa. When I told him this he said, "Look, I've been to China four times and every time they have accepted my American Express."

A New Mexico Congresswoman called to make reservations, "I want to go from Chicago to Rhino, New York." The agent was at a loss for words. Finally, the agent said, "Are you sure that's the name of the town?" "Yes, what flights do you have?" replied the lady. After some searching, the agent came back with, "I'm sorry, ma'am, I've looked up every airport code in the country and can't find a Rhino anywhere." The lady retorted, "Oh, don't be silly! Everyone knows where it is. Check your map." The agent scoured a map of the state of New York and finally offered, "You don't mean Buffalo, do you?" "That's it! I knew it was a big animal," she said.

Now you know why Government is in the shape that it's in.
---
She married and had 13 children. Her husband died. She married again and had 7 more children. Again, Her husband died. But, she remarried and this time had 5 more children. Alas, she finally died.

Standing before her coffin, the preacher prayed for her. He thanked the Lord for this very loving woman and said, "Lord, they're finally together."

One mourner leaned over and quietly asked her friend, "Do you think he means her first, second or third husband?" The friend replied, "I think he means her legs."

---
Gay Joke's, Hillbilly Joke's, Female Joke's and More.
Two gay gentlemen are walking through a zoo. They come across the
gorillas and after a while they notice that the male gorilla has a massive erection.

The gay men are fascinated by this. One of the men just can't bear it any longer and he reaches into the cage to touch it. The gorilla grabs him, drags him into the cage and mates with him for six hours nonstop. When he's done, the gorilla throws the man back out of the cage.

An ambulance is called and the man is taken away to the hospital. Next day his friend visits him in the hospital and asks, "Are you hurt?"

"AM I HURT?", he shouts, "Wouldn't you be? He hasn't called, he hasn't written...
---
Hillbilly Joke
Poor Clyde died in a fire and was burnt pretty badly. The morgue needed someone to identify the body. So his two best friends, Clem and Zeke, were sent for.
Clem went in and the mortician pulled back the sheet. Clem said "Yup, he's burnt pretty bad. Roll him over." So the mortician rolled him over and Clem looked and said "Nope, ain't Clyde." The mortician thought that was rather strange. Then he brought Zeke to identify the body and Zeke took a look at him and said "Yup, he's burnt real bad, roll him over." The mortician rolled him over and Zeke looked down and said "No, it ain't Clyde."
The mortician asked "How can you tell?" Zeke said, "Well, Clyde had two assholes." "What? He had two assholes?" said the mortician. Zeke said, "Yup, everyone in town knew he had two assholes. Every time we went to town, folks would say "Here comes Clyde with them two assholes."
---
Female Joke
This is an extract of an National Public Radio (NPR) interview between a female broadcaster and US Army Lieutenant General Reinwald about sponsoring a Boy Scout Troop on his military installation.

Interviewer: "So, LTG Reinwald, what are you going to do with these young boys on their adventure holiday?"

LTG Reinwald: "We're going to teach them climbing, canoeing, archery, and shooting."

Interviewer: "Shooting! That's a bit irresponsible, isn't it?"

LTG Reinwald: "I don't see why; they'll be properly supervised on the range."

Interviewer: "Don't you admit that this is a terribly dangerous activity to be teaching children?"

LTG Reinwald: "I don't see how; we will be teaching them proper range discipline before they even touch a firearm."

Interviewer: "But you're equipping them to become violent killers."

LTG Reinwald: "Well, you're equipped to be a prostitute, but you're not one, are you?"

End of the interview!
---
A Russian scientist and a Czechoslovakian scientist had spent their lives studying the grizzly bear. Each year they petitioned their respective governments to allow them to go to Yellowstone to study the bears. Finally their request was granted, and they immediately flew to NY and onward west to Yellowstone.

They reported to the ranger station and were told that it was the
grizzly mating season and it was too dangerous to go out and study the animals. They pleaded that this was their only chance and finally the ranger relented. The Russian and the Czech were given portable phones and told to report in every day. For several days they called in, and then nothing was heard from the two scientists. The rangers mounted a search party and found the camp completely ravaged with no sign of the missing men.

They followed the trail of a male and a female bear. They found the
female and decided they must kill the animal to find out if she had
eaten the scientist because they feared an international incident.

They killed the female animal and opened the stomach to find the
remains of the Russian. One ranger turned to the other and said, "You
know what this means, don't you?"

The other ranger responded, "Of course, the Czech is in the male."
---
One Night After Watching Who Wants To Be A Millionaire...

A man and his wife went to bed and the man was getting very frisky. He asked his wife if she was in the mood.

His wife answered, "Not tonight dear, I have a headache."

The man replied, "Is that your final answer?"

She said "Yes."

"OK, then I'd like to phone a friend." he replied.
---
An old hillbilly farmer had a wife who nagged him unmercifully. From morning till night (and sometimes later), she was always complaining about something. The only time he got any relief was when he was out
plowing with his old mule.

He tried to plow a lot. One day, when he was out plowing, his wife brought him lunch in the field. He drove the old mule into the shade, sat down on a stump, and began to eat his lunch. Immediately, his wife
began nagging him again.

Complain, nag, complain, nag; it just went on and on. All of a sudden, the old mule lashed out with both hind feet; caught her smack in the back of the head and killed her dead on the spot.

At the funeral several days later, the minister noticed something rather odd. When a woman mourner would approach the old farmer, he would listen for a minute, then nod his head in agreement; but when a man mourner approached him, he would listen for a minute, then shake his head in disagreement. This was so consistent, the minister decided to ask the old farmer about it.

So after the funeral, the minister spoke to the old farmer, and asked him why he nodded his head and agreed with the women, but always shook his head and disagreed with all the men. The old farmer said, "Well, the women would come up and say something about how nice my wife looked, or how pretty her dress was, so I'd nod my head in agreement." "And what about the men?" the minister asked. "They wanted to know if the mule was for sale."
---
A pirate walks into a bar and it appears that he has a steering wheel to a ship in front of his trousers. In fact, it looks like he's got his dick stuck through the center of it. The bartender says, "Hey pirate! You've got your dick stuck in a steering wheel!" The pirate says, "Arrrr, I know; drives me nuts!!"
---
A lady walks into a drug store and tells the pharmacist she needs some cyanide. The pharmacist said, " Why in the world do you need cyanide? The lady then explained she needed it to poison her husband. The pharmacist's eyes got big and he said, " Lord have mercy, I can't give you cyanide to kill your husband! That's against the law! They'll throw both of us in jail and I'll lose my license.
Then the lady reached into her purse and pulled out a picture of her husband in bed with the pharmacist's wife and handed it to the pharmacist. The pharmacist looked at the picture and replied, "Well now, you didn't tell me you had a prescription."