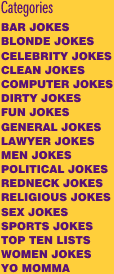 A Dirty Joke of the Day.
What's the difference between oral sex and anal sex?
Oral sex makes your day, anal sex makes your hole weak.

What do a gynecologist and a pizza delivery boy have in common?
They can both smell it but can't eat it.

How is a woman like a condom?
Both spend more time in your wallet than on your dick.

What's the difference between love, true love and showing off?
Spitting, swallowing and gargling.

How do you make 5 pounds of fat look good?
Put a nipple on it.

What should you do if you girlfriend starts smoking?
Slow down and use a lubricant.

What's six inches long, two inches wide, and drives women wild?
Money.

What's the definition of a male chauvinist pig?
A man who hates every bone in a woman's body, except his own.

Why do women pay more attention to their appearance than improving their minds?
Because most men are stupid, but few are blind.

What do blondes and the Bermuda triangle have in common?
They've both swallowed a lot of semen.

How can you spot the blind guy at the nudist colony?
It's not hard.

Who is the most popular guy at the nudist colony?
The guy who can carry a cup of coffee in each hand and a dozen donuts.

Who is the most popular girl at the nudist colony?
She is the one who can eat the last donut!

What's the difference between a pick pocket and a peeping Tom?
A pick pocket snatches watches.
---
Dirty Joke about Little Billy
Little Billy came home from school to see the families pet rooster dead in the front yard. Rigor mortis had set in and it was flat on its back with its legs in the air. When his Dad came home Billy said, "Dad our roosters dead and his legs are sticking in the air. Why are his legs sticking in the air?"

His father thinking quickly said, "Son, that's so God can reach down from the clouds and lift the rooster straight up to heaven."

"Gee Dad that's great," said little Billy. A few days later, when Dad came home from work, Billy rushed out to meet him yelling, "Dad, Dad we almost lost Mom today!"

"What do you mean?" said Dad.

"Well Dad, I got home from school early today and went up to your bedroom and there was Mom flat on her back with her legs in the air screaming, "Jesus I'm coming, I'm coming" If it hadn't of been for Uncle George holding her down we'd have lost her for sure!"
---
In the Garden of Eden,
as everyone knows,
Lives Adam and Eve,
without any clothes.

In this garden,
were two little leaves,
one covered Adam's,
one covered Eve's.

As the story goes on,
Never the less to say,
the wind came along,
and blew the leaves away.

At the sight,
Adam did stare,
There was Eve's treasure,
All covered with hair.

And wonder came,
Under Eve's eyes,
As Adam's thing,
started to rise.

They found a spot,
that suited them best,
a nice big tree,
where they began to rest.

Her legs spread wider,
and wider apart,
While thrill after thrill,
Came into her heart.

The head of Adam's thing,
Peeked into the hole,
and filled her with passion,
Beyond her control.

Backward and forward,
His thing did slide,
And Eve's treasure,
was all wet inside.

The joy was good,
She wouldn't let loose,
Until Adam's thing,
Was all out of juice.

Then down through the years,
People did screw,
and now it is time,
for me and you.

So pull down your pants,
and lay in the grass,
because I'm in the mood,
for a piece of that ASS!