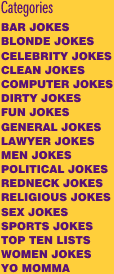 ADULT DIRTY JOKE
Our adult dirty joke pages will leave you in stitches! Got any funny dirty joke stuff that you'd like to share with us? Submit it to us and we'll add it to our adult related jokes category!
There once lived a king and a queen who ruled a large kingdom. The king was short in vital parts and the queen had to seek solace with every Dick, Tom and Harry.

After some time the king grew suspicious of the queen's escapades and wanted to punish the subjects willing to risk their lives for a fling with her.

He sought the services of his court magician to help identify the culprits. The magician built an invisible contraption that was attached to the queen's waist. The mechanism was simple, it would slice any elongated object that ventured anywhere within an inch of the queen's waist.

Having set his trap the king set off on a hunting trip and returned to his palace after spending a sleepless week and burning with curiosity.

Immediately after his arrival he summoned the queen's private bodyguards to his foyer and having dispatched all attendants ordered them to undress. All of them had lost their penises! He next summoned the palace guards and the result was the same. By mid-afternoon he realized that there was not a single male soul in the vicinity who had not made a valiant attempt only to be left peniless (pun).

The only man left was his minister and to his surprise the king, on inspection found the only man who had a penis left on him!

Pleased with his minister's loyalty he asked him as to what punishment would befit all the others and in reply received only a blubbering sound from the minister's mouth.
---
A gynecologist had a burning desire to change careers and become a mechanic. So she found out from her local tech college what was involved, signed up for evening classes and attended diligently, learning all she could. When time for the practical exam approached, she prepared carefully for weeks, and completed the exam with tremendous skill. When the results came back, she was surprised to find that she had obtained a mark of 150%. Fearing an error, she called the instructor, saying "I don't want to appear ungrateful for such an outstanding result, but I wondered if there had been an error which needed adjusting." The instructor said, "During the exam, you took the engine apart perfectly, which was worth 50% of the total mark. You put the engine back together again perfectly, which is also worth 50% of the mark. I gave you an extra 50% because you did all of it THROUGH the muffler..."
---
This fellow was so deeply in love that just before he was married, he had his bride's name tattooed on his love muscle. Normally, only the first and last letters were visible, although when he was aroused, the tattoo spelled out W-E-N-D-Y. Now they're on their honeymoon at a resort in Montego Bay. One night, in the men's room, this fellow finds himself standing next to a tall Jamaican at the urinal.
To his amazement, he notices that this man, too, has the letters W-Y tattooed on his penis. "Excuse me," he says, "but I couldn't help noticing your tattoo. Do you have a girlfriend named Wendy?" "No way, mon, I work for the Tourist board. Mine reads, "Welcome to Jamaica, mon, have a nice day.'"
---
A woman was very despondent over not having sex in quite some time. She was becoming agitated and worried that she might never find a mate. In hopes of finding a solution to her problem, she decided that it was time to see a doctor. Looking thru the phone book, she came upon a Chinese sex therapist named Dr. Chang.

When the woman arrived, she told the doctor her symptoms and he said, "Take off all your clothes and you crawl real fass away from me across the froor."

She crawled to the other side of the room and Dr. Chang said, "Now...you crawl real fass back to me," and she did. Dr. Chang shook his head and said, "you haf real bad case of Ed Zachary disease....worse case I ever see! That why you haf sex probrem."

The woman was completely confused and asked the doctor exactly what Ed Zachary Disease was and he replied, "Ed Zachary Disease....that when your face rook ED-ZACHARY rike your ass!"
---
10. Lately she sits at the computer naked.

9. After signing off, he always has a cigarette.

8. The giant rubber inflatable disk drive.

7. In the morning, the computer screen is all fogged up.

6. He's gotten amazingly good at typing with one hand.

5. She makes sarcastic remarks about your "software".

4. Lipstick on the mouse.

3. During sex, she screams "A colon backslash enter insert!"

2. The fax file is filled with pictures of someone's butt.

1. The jam in the laser printer is a pair of underwear.
---
Newly married couple both nymphomaniacs, husband comes downstairs in the morning and the wife asks what he'd like for breakfast "Oh I think I'll have a shag please!" So they go upstairs have a shag then he goes to work. Husband comes home for lunch, "What would you like for lunch dear?" "Oh I think I'll have a shag please!" So again they shag and he returns to work. Half hour later he walks in the house and finds his wife sliding up and down the banister! "What are you doin?" he asks. "I'm warming up your dinner!!"
---
There were three women who were at the gynecologist having pre-natal checkups The doctor asked the first woman "in what position was the baby conceived?"

"He was on top ", she replied.
"You will have a boy!" the doctor exclaimed.

The second woman was asked the same question.
"I was on top ", was the reply.
"you will have a baby girl. " said the doctor.

With this, the third women, a blonde, burst into tears. "What's the matter?" asked the doc.
"Am I going to have puppies?".....
---
You're sitting at the table and your son is on the cover of Wheaties, your mistress is on the cover of Playboy, and your wife is on the back of the milk carton.
---
Story of a Woman who just turned 47
When I was 16, I hoped that one day I would have a boyfriend.

When I was 18, I got a boyfriend, but there was no passion. So I decided I needed a passionate guy with a zest for life.
In college I dated a passionate guy, but he was too emotional. Everything was an emergency, he was a drama queen, cried all the time and threatened suicide. So I decided I needed a guy with stability.

When I was 25, I found a very stable guy but he was boring. He was totally predictable and never got excited about anything. Life became so dull that I decided I needed a guy with some excitement.

When I was 28, I found an exciting guy, but I couldn't keep up with him.

He rushed from one thing to another, never settling on anything. He did mad, impetuous things and flirted with everyone he met. He made me miserable as often as happy. He was great fun initially and very energetic, but directionless. So I decided to find a guy with some ambition.

When I turned 31, I found a smart ambitious guy with his feet planted firmly on the ground and married him. He was so ambitious that he divorced me, took everything I owned, and ran off with my best friend.

I am now 47 and am looking for a guy with a big dick.