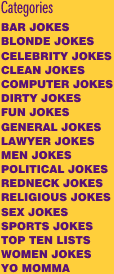 TASTELESS JOKES
Our tasteless jokes are as stale as an old bread. Did we miss a tasteless joke that maybe you have? Submit it to us and we'll add it to our popular tasteless jokes category!
A rabbit one day managed to break free from the laboratory where he had been born and brought up. As he scurried away from the fencing of the compound, he felt grass under his little feet and saw the dawn breaking for the first time in his life. "Wow, this is great," he thought. It wasn't long before he came to a hedge and, after squeezing under it he saw a wonderful sight: lots of other bunny rabbits, all free, having fun and nibbling at the lush grass.

Hey," he called. "I'm a rabbit from the laboratory and I've just escaped. Are you wild rabbits?"

"Yes. Come and join us," they cried. Our friend hopped over to them and started eating the grass. It tasted so good, unlike his tasteless food he grew up with. "What else do you wild rabbits do?" he asked. "Well," one of them said. "You see that field there? It's got carrots growing in it. We dig them up and eat them." This he couldn't resist and he spent the next hour eating the most succulent carrots. They were wonderful. Later, he asked them again, "What else do you do?"

"You see that field there? It's got lettuce growing in it. We eat them as well." The lettuce tasted just as good and he returned a while later completely full. "Is there anything else you guys do?" he asked. One of the other rabbits came a bit closer to him and spoke softly. "There's one other thing you must try. You see those rabbits there," he said, pointing to the far corner of the field. "They're girls. We shag them. Go and try it." Well, our friend spent the rest of the morning screwing his little heart out until, completely knackered, he staggered back over to the guys. "That was fantastic," he panted. "So are you going to live with us then?" one of them asked. "I'm sorry, I had a great time but I can't." The wild rabbits all stared at him, a bit surprised. "Why? We thought you liked it here."

"I do," our friend replied. "But I must get back to the laboratory. I'm dying for a cigarette."
---
Deep within a forest, a little turtle began to climb a tree. After hours of effort, he reached the top, jumped into the air waving his front legs and crashed to the ground. After recovering, he slowly climbed the tree again, jumped, and fell to the ground. The turtle tried again and again, while a couple of birds sitting on a branch watched his sad efforts. Finally, the female bird turned to her mate. "Dear," she chirped, "I think it's time to tell him he's adopted."
---
The class assignment in composition was to write about something unusual that happened during the past week. Little Irving got up to read his. "Papa fell in the well last week - " he began. "Good heavens," shrieked Mrs. Kroop, the teacher. "Is he all right now?" "He must be," said little Irving. "He stopped yelling for help yesterday."
---
A man went to his doctor seeking help for his terrible addiction to cigars. The doctor was quite familiar with his very compulsive patient, so recommended an unusual and quite drastic form of aversion therapy. "When you go to bed tonight, take one of your cigars, unwrap it, and stick it completely up your asshole. Then remove it, rewrap it, and place it back with all the others in such a fashion as you can't tell which one it is. The aversion is obvious: you won't dare smoke any of them, not knowing which is the treated cigar." "Thanks doc, I'll try it." And he did. But three weeks later he came back and saw the doctor again. "What? My recommendation didn't work? It was supposed to be effective even in the most addictive of cases, such as yours is!" "Well, it kind of worked, doc. At least I was able to transfer my addiction," said the patient. "What in the hell is that supposed to mean?" "Well, I don't smoke cigars anymore, but now I can't go to sleep at night unless I have a cigar shoved up my ass..."
---
A man in a bar sees a friend at a table, drinking by himself. Approaching the friend, he comments, "You look terrible. What's the problem?" "My mother died in June, and left me $10,000." said the friend. "Gee, that's tough," he replied. "Then in July," the friend continued, "My father died, leaving me $50,000." The man looking concerned says, "Wow. Two parents gone in two months. No wonder you're depressed." The friend continues, "And last month my aunt died, and left me $15,000." "Three close family members lost in three months??? How sad!!!" "Then this month,..." continued, the friend, "Nothing! Not a single dime!"
---
A woman walks up to an old man sitting in a chair on his porch. "I couldn't help but notice how happy you look," she said. "What's your secret for a long, happy life?" "I smoke three packs a day, drink a case of beer, eat fatty foods, and never, ever exercise," he replied. "Wow, that's amazing," she said, "How old are you?" "Twenty-six."
---
One day, a man walks into a dentist's office and asks how much it will cost to extract wisdom teeth. "Eighty dollars," the dentist says. "That's a ridiculous amount," the man says. "Isn't there a cheaper way?" "Well," the dentist says, "if you don't use an aesthetic, I can knock the price down to $60." Looking annoyed the man says, "That's still too expensive!" "Okay," says the dentist. "If I save on anesthesia and simply rip the teeth out with a pair of pliers, I can knock the price down to $20." "Nope," moans the man, "it's still too much." "Well," says the dentist, scratching his head, "if I let one of my students do it, I suppose I can knock the price down to $10." "Marvelous," says the man, "book my wife for next Tuesday!"
---
One afternoon, a man was riding in the back of his limousine when he noticed two men eating grass by the road side. He ordered his driver to stop and he got out to investigate. "Why are you eating grass?" he asked one man. "We don't have any money for food," the poor man replied. "Oh, come along with me then." the man from the limousine said excitedly. "But sir, I have a wife with two children!" "Bring them along! And you, come with us too!" he said to the other man. "But sir, I have a wife with six children!" the second man answered. "Bring them as well!" So, they all climbed into the car, which was no easy task, even for a vehicle as large as the limousine. One of the poor fellows expressed his gratitude, "Sir, you are too kind. Thank you for taking all of us with you." The rich man replied, "No, thank you... the grass at my place is about three feet tall and I could use the help!"
---
A blind man was traveling in his private jet when he detected something was wrong. He made his way to the cockpit and got no response from his pilot. The blind guy then found the radio and started calling the tower. "Help! Help!" The tower came back and asked, "What's the problem?" The blind guy yelled, "Help me! I'm blind... the pilot is dead, and we're flying upside down!" The tower comes back and asked, "How do you know
you're upside down?" "Because the shit is running down my back!"

---
Three men were sitting naked in a sauna. Suddenly there was a ring tone and the first man pressed his wrist and put it up to his ear, speaking into it. The others looked bemused until he explained that it was the latest cell phone that was so tiny it could be implanted under the skin. Time passed and the second man suddenly pressed his ear lobe and listened intently. He looked around and explained that he was checking his voicemail. The third man was a little put out that he had no gadgets himself so he thought for a moment, then went out of the room. He returned moments later with a piece of toilet paper hanging out of his bottom. He looked around and "Oh look, I've got a fax coming through"!
---
Q. Define "Egghead:"
A. What Mrs. Dumpty gives to Humpty.

Q. How can you tell if you have acne?
A. If the blind can read your face.