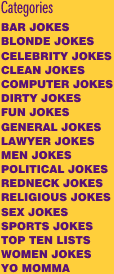 RELIGIOUS JOKES
Our religious jokes poke fun at the funny side of religion. Did we miss a joke to do with religion that maybe you have? Submit it to us and we'll add it to our popular religion related jokes category!
The Sermon
A visiting minister waxed eloquent during the offertory prayer. He began, with arms extended toward heaven and a rapturous look
on his upturned face,"Without you we are but dust... "

He would have continued but at that moment my very obedient daughter(who waslistening!) leaned over to me and asked quite audibly in her shrill little girl voice, "Mom, what is butt dust?"
---
This guy suspects his wife is cheating on him. He comes home early and she meets him at the door in a bathrobe, her hair a mess. "Where is he?" he shouts. "Where's the guy who's been sleeping with you?" "I don't know what you're talking about" she says so he tears the house apart looking for this guy. Finally he's on the second floor, in the kitchen, he looks out the window and sees some guy sitting in a Volkswagen. "Aha!" he thinks, "That's the guy who's been sleeping with my wife." He's so furious he picks up the refrigerator, throws it out the window at the guy, has a heart attack and dies.

So St. Peter meets him at the gates of Heaven and asks "What are you doing here?" The guy says "Well, I knew my wife was cheating on me so I came home early from work, saw him sitting in his Volkswagen out on the street, threw the refrigerator at him, I had a heart attack and died." St. Peter says "You don't belong here; go to Hell." He pulls a big lever, a trap door opens up and the guy disappears.

A few minutes later another guy comes up to St. Peter at the gates of Heaven. St. Peter asks "What are you doing here?" The guy says "I don't know! I was just sitting in my Volkswagen, minding my own business, when suddenly somebody throws a refrigerator at me." St. Peter wags his finger and says "I heard about you... you go to Hell too." He pulls the lever and the guy disappears.

A few minutes later another guy comes up to St. Peter at the gates of Heaven. St. Peter asks "What are you doing here?" The guy says "I don't know! I was just sitting in a refrigerator, minding my own business..."
---
The head priest at a certain church was out for the day, so he asked the deacon to do confession for him. The deacon agrees, and the first person that comes says, "Forgive me, for I just gave a guy a blow job." He says, "You have sinned."

Then he looks at the sheet on the wall that had punishments for certain sins on it, but blow job was not on there, so he went out to ask one of the altar boys what he usually gives for a blow job. The altar boy answered, "Oh, about five dollars."
---
A married man goes to confessional and says to the priest, "Father, I had an affair with a woman... almost." "What do you mean almost?" question the priest. "Well, we got undressed and rubbed together, but then I stopped." "Rubbing together is the same as putting it in," explains the priest. "You're not to go near that woman again. Now, say five Hail Mary's and put $50 in the poor box."

The man leaves confessional, says his prayers, and then walks over to the poor box. He pauses for a moment and then decides to leave. The priest quickly runs over to the man and exclaims, "I saw that... you didn't put any money in the poor box!" "Well Father, I rubbed up against it and, like you said, it's the same as putting it in!"
---
A drunk man who smelled like beer sat down on a subway seat next to a priest. The man's tie was stained, his face was plastered with red lipstick, and a half empty bottle of gin was sticking out of his torn coat pocket. He opened his newspaper and began reading. After a few minutes the man turned to the priest and asked," Say, Father, what causes arthritis?"

"My Son, it's caused by loose living, being with cheap, wicked women, too much alcohol, a contempt for your fellow man, sleeping around with prostitutes and lack of bath." "Well, I'll be damned," the drunk muttered, returning to his paper. The priest, thinking about what he had said, nudged the man and apologized. "I'm very sorry. I didn't mean to come on so strong. How long have you had arthritis?" "I don't have it, Father. I was just reading here that the Pope does."
---
Is God Real?

An atheist professor was teaching a college class at Alabama and he told the class that he was going to prove that there is no God. He said, "God, if you are real, then I want you to knock me off this platform. I'll give you 15 minutes!" Ten minutes went by.

He kept taunting God, saying, "Here I am, God. I'm still waiting." He got down to the last couple of minutes and a big 240 pound football player in the class walked up to the professor, hit him full force in the face, and sent him flying from his platform. The professor struggled up, obviously shaken and yelled, "What's the matter with you? Why did you do that?"

The football player replied, "GOD WAS BUSY; HE SENT ME!"
---
There was a Minister whose wife was expecting a baby. The Minister went to the congregation and asked for a raise. After much consideration and discussion, they passed a rule that when the Minister's family expanded, so would his pay check.

After five or six children, this started to get expensive. The congregation decided to hold a meeting again to discuss the Minister's pay situation. You can imagine there was much yelling and bickering. Finally, the Minister got up and spoke to the crowd, "Having children is an act of God!"

In the back of the room, a little old man with a full beard stood up, and in his frail voice said... "Snow and Rain are also 'acts of God', but when we get too much, we wear rubbers!"