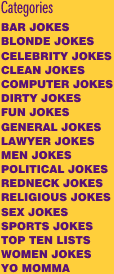 Daily Jokes
Our Daily Jokes were once in our joke of the day so they are bound to be funny. Hey, got any jokes that you think are good? Submit them to us and we'll add it to our popular joke of the day category!
A beautiful woman walked into an orchard and found a lovely pool in it. She decided to go skinny-dipping. She looked around, didn't see anyone, and undressed. Just as she was about to dive in, the orchard owner appeared from behind the bush where he was hiding all along and told her that swimming was prohibited. "You could have told me that before I undressed!" she scolded him. He replied, "Swimming is prohibited, undressing isn't."
---
A young ventriloquist is touring the clubs and stops to entertain at a bar in a small town.

He's going through his usual run of stupid blonde jokes, when a large, blonde woman in the fourth row stands on her chair and says, "I've heard just about enough of your denigrating blond jokes! What makes you think you can stereotype women that way? What does a person's physical attributes have to do with their worth as a human being?" The ventriloquist looks on in amazement.

"It's guys like you who keep women like me from being respected at work and in my community," she continued,
"and of reaching my full potential as a person because you and your kind continue to perpetuate discrimination against not only blondes but women at large... all in the name of humor."

Flustered, the ventriloquist begins to apologize. The blonde interjects, "You stay out of this, mister, I'm talking to that little bastard on your knee!"
---
One afternoon, a man was riding in the back of his limousine when he noticed two men eating grass by the road side. He ordered his driver to stop and he got out to investigate. "Why are you eating grass?" he asked one man. "We don't have any money for food," the poor man replied. "Oh, come along with me then." the man from the limousine said excitedly. "But sir, I have a wife with two children!" "Bring them along! And you, come with us too!" he said to the other man. "But sir, I have a wife with six children!" the second man answered. "Bring them as well!" So, they all climbed into the car, which was no easy task, even for a vehicle as large as the limousine. One of the poor fellows expressed his gratitude, "Sir, you are too kind. Thank you for taking all of us with you." The rich man replied, "No, thank you... the grass at my place is about three feet tall and I could use the help!"
---
Our story begins at the Olympics, specifically the wrestling event. It is narrowed down to the Russian or the American for the gold medal. Before the final match, the American wrestler's trainer came to him and said, "Now don't forget all the research we've done on this Russian. He's never lost a match because of this "pretzel" hold he has. Whatever you do, don't let him get you in this hold! If he does, you're finished!"

The wrestler nodded in agreement. Now, to the match: The American and the Russian circled each other several times looking for an opening. All of a sudden the Russian lunged forward, grabbing the American and wrapping him up in the dreaded pretzel hold!

A sigh of disappointment went up from the crowd, and the trainer buried his face in his hands for he knew all was lost. He couldn't watch the ending.

Suddenly there was a horrible scream, and a resounding cheer from the crowd. The trainer raised his eye just in time to see the Russian flying up in the air. The Russian's back hit the mat with a thud, and the American weakly collapsed on top of him, getting the pin and winning the match.

The trainer was astounded! When he finally got the American wrestler alone, he asks, "How did you ever get out of that hold? No one has ever done it before!"

The wrestler answered, "Well, I was ready to give up when he got me in that hold, but at the last moment, I opened my eyes and saw this pair of balls right in front of my face. I thought I had nothing to lose, so with my last ounce of strength I stretched out my neck and bit those babies just as hard as I could. You'd be amazed how strong you get when you bite your own balls!"
---
A woman walks into a bar wearing a short mini skirt and orders a Coors, the bar tender gives her the beer, she drinks it as fast as possible and passes out falls off the bar stool, legs wide open and the 5 guys in the bar all have there turn with her until she wakes up and walks out. the next day the same thing happens only there were 5 more guys and they all did what they wanted with her when she passed out till she woke up and left. The next day she walks into the bar and there's at least 20 guys, so she goes to the bar tender who is waiting with her Coors and she says "I'll have a Bud" and the bar tender says I though you drank Coors. she says I did but that damn Coors makes my pussy hurt.
---
Somewhere in Alabama:

Half dressed redneck couple sitting on couch watching news on TV with man's arm around woman:
Man: "Lookit them homo-sekshuls a ruining the sanctity of our institution. We oughta go to San Francisco just to show dem liberals that marriage means one man, one woman. Right, Darlin'"

Woman: "Right, Daddy"
A lady walked into a pharmacy and spoke to the pharmacist.

She asked: "Do you have Viagra?"

"Yes," he answered.

She asked, "Does it work?"

"Yes," he answered.

"Can you get it over the counter?" she asked.

"I can if I take two," he answered.
---
Dear wife,

You must realize that you are 54 years old, and I have certain needs which you are no longer able to satisfy. I am otherwise happy with you
as a wife, and I sincerely hope you will not be hurt or offended to learn that by the time you receive this letter, I will be at the Grand Hotel with my 18 year old teaching assistant. I'll be home before midnight.

Your Husband

When he arrived at the hotel, there was a faxed letter waiting for him
that read as follows:

Dear Husband,

You too are 54 years old, and by the time you receive this letter, I will be at the Breakwater Hotel with the 18 year old pool boy. Since you are a mathematician, you will appreciate that 18 goes into 54 more times than 54 goes into 18. Therefore don't wait up.

Your Wife
---
Answering Service At The Mental Institute

"Hello, and welcome to the mental health hotline.

If you are obsessive-compulsive, press 1 repeatedly.

If you are co-dependent, please ask someone to press 2 for you.

If you have multiple personalities, press 3,4,5, and 6.

If you are paranoid, we know who you are and what you want. Stay on the line so we can trace your call.

If you are delusional, press 7 and your call will transferred to the mother ship.

If you are schizophrenic, listen carefully and a small voice will tell you which number to press.

If you are manic depressive, it doesn't matter which number you press, no one will answer.

If you have a nervous disorder, please fidget with the hash key until someone comes on the line.

If you are dyslexic, press 6969696969.

If you have amnesia, press 8 and state your name, address, phone number, date of birth, social security number, and your mother's maiden name.

If you have post-traumatic-stress disorder, slowly and carefully press 000.

If you have bipolar disorder, please leave a message after the beep, or before the beep, or after the beep. Please wait for the beep.

If you have short-term memory loss, press 9. If you have short term memory loss, press 9. If you have short term memory loss, press 9. If you have short term memory loss, press 9.

If you have low self esteem, please hang up. All our operators are too busy to talk to you."
---
A Loan for Kermit

A frog goes into a bank and approaches the teller. He can see from her nameplate that her name is Patricia Whack.

"Miss Whack, I'd like to get a $30,000 loan to take a holiday." Patty looks at the frog in disbelief and asks his name. The frog says his name is Kermit Jagger, his dad is Mick Jagger, and that it's okay, he knows the bank manager.

Patty explains that he will need to secure the loan with some collateral. The frog says, "Sure. I have this," and produces a tiny porcelain elephant, about an inch tall, bright pink and perfectly formed. Very confused, Patty explains that she'll have to consult with the bank manager and disappears into a back office.

She finds the manager and says, "There's a frog called Kermit Jagger out there who claims to know you and wants to borrow $30,000, and he wants to use this as collateral." She holds up the tiny pink elephant. "I mean, what in the world is this?"

(You're going to love this)




(A masterpiece)




(Wait for it)

The bank manager looks back at her and says..."It's a knickknack, Patty Whack. Give the frog a loan. His old man's a Rolling Stone."
(You're singing it, aren't you?) Come on now, you grinned, I know you did!!
---
One day, farmer Jones was in town picking up supplies for his farm. He stopped by the hardware store and picked up a bucket and an anvil, then stopped by the livestock dealer to buy a couple of chickens and a goose.

Now he had a problem: how to carry all of his purchases home. The livestock dealer said, "Why don't you put the anvil in the bucket, carry the bucket in one hand, put a chicken under each arm and carry the goose in your other hand?"

"Hey, thanks!" the farmer said, and off he went.

While walking he met a fair young lady with rather large beautiful breasts. She told him she was lost, and asked, "Can you tell me how to get to 1515 Mockingbird Lane?"

The farmer said, "Well, as a matter of fact, I'm going to visit my brother at 1616 Mockingbird Lane. Let's take a short cut and go down this alley. We'll save half the time to get there".

The fair young lady said, "How do I know that when we get in to the alley you won't hold me up against the wall, pull down my skirt and ravish me?"

The farmer said, "I am carrying a bucket, an anvil, 2 chickens, and a goose. How in the world could I possibly hold you up against the wall and do that?"

The young lady said, "Set the goose down, put the bucket over the goose, put the anvil on top of the bucket, and I'll hold the chickens.
---
A couple was on their honeymoon, ready to consummate their marriage, when the new bride says to her husband, "I have a confession to make, I'm not a virgin."

The husband replies, "That's no big thing this day and age."

The wife continues, "Yeah, I've been with one guy."

"Oh yeah? Who was the guy?"

"Tiger Woods."

"Tiger Woods, the golfer?"

"Yeah."

"Well, he's rich, famous and handsome. I can see why you went to bed
with him."

The husband and wife then make passionate love. When they are done, the husband gets up and walks to the telephone.

"What are you doing?" asks the wife.

The husband says, "I'm hungry, I was going to call room service and get something to eat."

"Tiger wouldn't do that."

"Oh yeah? What would Tiger do?"

"He'd come back to bed and do it a second time."

The husband puts down the phone and goes back to bed to make love to his wife a second time.

When they finish, he gets up and goes over to the phone.

"Now what are you doing?" she asks.

"I'm still hungry, so I was going to get room service to get something to eat."

"Tiger wouldn't do that."

"Oh yeah? What would Tiger do?"

"He'd come back to bed and do it again."

The husband puts down the phone and goes back to bed to make love to his wife a third time.

When they finish, he's tired and beat. He drags himself over to the phone and starts to dial.

The wife asks, "Are you calling room service?"

"No! I'm calling Tiger Woods, to find out what's par for this damn hole."
---
This is a story about a couple who had been happily married for years.

The only friction in their marriage was the husband's habit of farting loudly every morning when he awoke. The noise would wake his wife and the smell would make her eyes water and make her gasp for air.

Every morning she would plead with him to stop ripping them off because it was making her sick. He told her he couldn't stop it and that it was perfectly natural. She told him to see a doctor; she was concerned that one day he would blow his guts out.

The years went by and he continued to rip them out! Then one Thanksgiving morning as she was preparing the turkey for dinner and he was upstairs sound asleep, she looked at the bowl where she had put the turkey innards and neck, gizzard, liver and all the spare parts and a malicious thought came to her.

She took the bowl and went upstairs where her husband was sound asleep and, gently pulling back the bed covers, she pulled back the elastic waistband of his underpants and emptied the bowl of turkey guts into his shorts.

Some time later she heard her husband waken with his usual trumpeting
which was followed by a blood curdling scream and the sound of frantic footsteps as he ran into the bathroom. The wife could hardly control herself as she rolled on the floor laughing, tears in her eyes! After years of torture she reckoned she had got him back pretty good.

About twenty minutes later, her husband came downstairs in his bloodstained underpants with a look of horror on his face.

She bit her lip as she asked him what was the matter. He said, "Honey, you were right." "All these years you have warned me and I didn't listen to you."

"What do you mean?" asked his wife.

"Well, you always told me that one day I would end up farting my guts out, and today it finally happened. But by the grace of God, some Vaseline, and two fingers, I think I got most of them back in!"
---
She married and had 13 children. Her husband died. She married again and had 7 more children. Again, Her husband died. But, she remarried and this time had 5 more children. Alas, she finally died.

Standing before her coffin, the preacher prayed for her. He thanked the Lord for this very loving woman and said, "Lord, they're finally together."

One mourner leaned over and quietly asked her friend, "Do you think he means her first, second or third husband?" The friend replied, "I think he means her legs."
---
Here's a heartwarming story about the bond formed between a little girl and some construction workers. This will make you believe that we CAN make a difference when we give a child the gift of your time...

A young family moved into a house next door to a vacant lot. One day, a construction crew came in and began building a house on the empty lot. The family's 5-year-old daughter became interested in all the activity going on next door and spent much of each day observing the workers.

Eventually, the construction crew, all of them gems-in-the-rough, more or less adopted her as a project mascot. They chatted with her, let her sit with them while they took coffee and lunch breaks, and gave her little jobs to do here and there to make her feel important.

At the end of the first week, the men presented her with a pay envelope which contained $2.00. The little girl took this home to her mother, who said all the appropriate words of admiration, and suggested that they take the money she received to the bank to start a savings account.

When they talked to the bank teller, she was equally impressed and asked the little girl how she had earned her very own pay check at such a young age. The child proudly replied, "I worked last week with the crew building the house next door to us."

My goodness gracious," said the teller, "and will you be working on the house again this week, too?" The little girl replied, "I will if those assholes at Home Depot ever deliver the fuckin' sheet rock..."
---
Most Famous Man Who Ever Lived

One day many years ago at a school in South London a teacher said to the class of 5-year-olds, "I'll give $20 to the child who can tell me who was the most famous man who ever lived."

An Irish boy put his hand up and said, "It was St. Patrick." The teacher said, "Sorry Alan, that's not correct."

Then a Scottish boy put his hand up and said, "It was St. Andrew." The teacher replied, "I'm sorry, Hamish, that's not right either.

Finally, a Gujarati boy raised his hand and said, "It was Jesus Christ."

The teacher said, "That's absolutely right, Jayant, come up here and I'll give you the $20."

As the teacher was giving Jayant his money, she said, "You know Jayant, since you are Gujarati, I was very surprised you said Jesus Christ."

Jayant replied, " Yes, in my heart I knew it was Lord Krishna, but business is business!"
---
A gentleman staying at the Ritz Hotel in London removes a card offering sexual services from a telephone box in Piccadilly. Back at the hotel he rings the number. A lady with a silky soft voice answers and asks if she can be of assistance. The gentleman says, "I'd like a blow job, some missionary work, a little doggie-style, some mild bondage, finishing off with a pearl necklace. What do you think?" The lady says, "I think it sounds intriguing, sir, but you might like to press 9 first to get an outside line."
---
G. W. Bush and John Kerry somehow ended up at the same barbershop.

As they sat there, each being worked on by a different barber, not a word was spoken. The barbers were even afraid to start a conversation, for fear it would turn to politics.

As the barbers finished their shaves, the one who had Kerry in his chair reached for the aftershave. Kerry was quick to stop him saying, "No thanks, my wife Theresa will smell that and think I've been in a whorehouse,"

The second barber turned to Bush and said, "How about you?"

Bush replied, "Go ahead, my wife doesn't know what the inside of a whorehouse smells like."
---
Here are some thoughts for the day!
Never take life too seriously. Nobody gets out alive anyway.

Life is sexually transmitted.

Health is merely the slowest possible rate at which one can die.

Men have two emotions: hungry and horny. If you see him without an erection, make him a sandwich.

Give a person a fish and you feed them for a day; teach a person to use the Internet and they won't bother you for weeks.

Why does a slight tax increase cost you two hundred dollars, and a substantial tax cut saves you thirty cents?

In the 60's people took acid to make the world weird. Now the world is weird, and people take Prozac to make it normal.

Politics is supposed to be the second oldest profession, and it bears a very close resemblance to the first.
---
THE QUESTION: Why did the chicken cross the road?


GEORGE W BUSH: We don't really care why the chicken crossed the road. We just want to know if the chicken is on our side of the road or not. The chicken is either against us or for us. There is no middle ground here.

COLIN POWELL: Now to the left of the screen, you can clearly see the satellite image of the chicken crossing the road.

HANS BLIX: We have reason to believe there is a chicken, but we have
not yet been allowed to have access to the other side of the road.

JOHN KERRY: Although I voted to let the chicken cross the road, I am
now against it!
PAT BUCHANAN: To steal the job of a decent, hardworking American.
RALPH NADER: The chicken's habitat on the other side of the road had been polluted by unchecked industrial greed. The chicken did not reach the unspoiled habitat on the other side of the road because it was crushed by the wheels of a gas-guzzling SUV.

RUSH LIMBAUGH: I don't know why the chicken crossed the road, but I'll bet it was getting a government grant to cross the road, and I'll bet
that somebody out there is already forming a support group to help chickens with crossing-the-road syndrome. Can you believe this? How much more of this can real Americans take? Chickens crossing the road paid for by their tax dollars. And when I say tax dollars, I'm talking about your money, money the government took from you to build a road for chickens to cross.

MARTHA STEWART: No one called me to warn me which way that chicken was going. I had a standing order at the Farmer's Market to sell my eggs when the price dropped to a certain level. No little bird gave me any insider information.

DR SEUSS: Did the chicken cross the road? Did he cross it with a toad?
Yes, the chicken crossed the road, but why it crossed I've not been told.

ERNEST HEMINGWAY: To die in the rain ... Alone.

MARTIN LUTHER KING, JR: I envision a world where all chickens will be free to cross roads without having their motives called into question.

GRANDPA: In my day, we didn't ask why the chicken crossed the road. Somebody told us the chicken crossed the road, and that was good enough.

BARBARA WALTERS: Isn't that interesting? In a few moments, we will be listening to the chicken tell, for the first time, the heartwarming story of how it experienced a serious case of molting, and went on to accomplish its life-long dream of crossing the road.

JOHN LENNON: Imagine all the chickens in the world crossing roads together - in peace.

ARISTOTLE: It is the nature of chickens to cross the road.

KARL MARX: It was an historic inevitability.

RONALD REAGAN: What chicken?

CAPTAIN KIRK: To boldly go where no chicken has ever gone before.

SIGMUND FREUD: The fact that you are at all concerned that the chicken crossed the road reveals your underlying sexual insecurity.

BILL GATES: I have just witnessed eChicken2003, which will not only cross roads, but will lay eggs, file your important documents, and balance your checkbook ... and Internet Explorer is an integral part of eChicken.

BILL CLINTON: I did not cross the road with THAT chicken. What is your definition of chicken?
ALBERT EINSTEIN: Did the chicken really cross the road, or did the road move beneath the chicken?
AL GORE: I invented the chicken!

COLONEL SANDERS: Did I miss one?
---
A guy goes to a doctor and says, "Doc, you've got to help me. My penis is orange." Doctor pauses to think and asks the guy to drop his pants so he can check. Damned if the guy's penis isn't orange. Doc tells the guy, "This is very strange. Sometimes things like this are caused by a lot of stress in a person's life."

Probing as to the causes of possible stress, the doc asks the guy, "How are things going at work?" The guy responds that he was fired about six weeks ago. The doctor tells him that this must be the cause of the stress. Guy responds, "No. The boss was a real asshole, I had to work 20-30 hours of overtime every week and I had no say in anything that was happening. I found a new job a couple of weeks ago where I can set my own hours, I'm getting paid double what I got on the old job and the boss is a really great guy." So the doc figures this isn't the reason.

He asks the guy, "How's your home life?" The guy says, "Well, I got divorced about eight months ago." The doc figures that this has got to be the reason for all of the guys stress. Guy says, "No. For years, all I listened to was nag, nag, nag. God, am I glad to be rid of that old bitch." So the doc takes a few minutes to think a little longer.

He inquires, "Do you have any hobbies or a social life?" The guy replies, "No, not really. Most nights I sit home, watch some porno flicks and munch on Cheetos."
---
It seems that life goes by resembling somewhat of a bell curve of what is considered successful...

At age 4...success is...not peeing in your pants.
At age 10...success is...making your own meals.
At age 12...success is...having friends.
At age 16...success is...having a drivers license.
At age 20...success is...having sex.
At age 35...success is...having money.
At age 50...success is...having money.
At age 60...success is...having sex.
At age 70...success is...having a drivers license.
At age 75...success is...having friends.
At age 80...success is...making your own meals.
At age 85...success is...not peeing in your pants.
---
There was a rich guy and a poor guy sitting together in a bar. The poor guy says "Well I must be going because I don't have that much money so I must go" (he stands, ready to leave) The rich guy says "No, sit down and I will buy you more drinks."
Poor guy: "Alright, but just one more, I really have to be getting home. It is my wife and I's anniversary"
Rich guy: "Really? My wife and I's anniversary was last week!"
Poor guy: "what did you get her?"
Rich guy: "I got her a diamond ring and a Mercedes"
Poor guy: "what made you decide to get her those?"
Rich guy: "Oh, I figured that if she didn't like the diamond ring, she could drive it back to the jewelers. So, what did you get your wife?"
Poor guy: "I got her a pair of flip-flops and a dildo"
Rich guy: "What made you decide to get her those?"
Poor guy: I figured that if she didn't like the flip-flops, she could go fuck herself."
---
Tell your momma to stop changing her lipstick color , I'm getting a fucking rainbow on my dick!
---
A drunk man who smelled like beer sat down on a subway seat next to a priest. The man's tie was stained, his face was plastered with red lipstick and a half empty bottle of gin was sticking out of his torn coat pocket.

He opened his newspaper and began reading. After a few minutes the man turned to the priest and asked," Say, Father, what causes arthritis?"

The priest replied, "My Son, it's caused by loose living, being with cheap, wicked women, too much alcohol and a contempt for your fellow man, sleeping around with prostitutes and lack of bath."

The drunk muttered in response, "Well, I'll be damned," then returned to his paper.

The priest, thinking about what he had said, nudged the man and apologized. "I'm very sorry. I didn't mean to come on so strong. How long have you had arthritis?"

The drunk answered, "I don't have it, Father. I was just reading here that the Pope does."
---
Senior Wedding

Jacob, age 92, and Rebecca, age 89, living in Florida, are all excited about their decision to get married.

They go for a stroll to discuss the wedding and on the way they pass a drugstore. Jacob suggests they go in.

Jacob addresses the man behind the counter: "Are you the owner?"

The pharmacist answers "Yes."

Jacob: "We're about to get married. Do you sell heart medication?"

Pharmacist: "Of course we do."

Jacob: "How about medicine for circulation?"

Pharmacist: "All kinds."

Jacob: "Medicine for rheumatism, scoliosis?"

Pharmacist: "Definitely."

Jacob: "How about Viagra?"

Pharmacist: "Of course."

Jacob: "Medicine for memory problems, Arthritis, Jaundice?"

Pharmacist: "Yes, a large variety. The works."

Jacob: "What about vitamins, sleeping pills, Geritol, Antidotes for Parkinson's disease?"

Pharmacist: "Absolutely."

Jacob: "You sell wheelchairs and walkers?"

Pharmacist: "All speeds and sizes."

Jacob says to the pharmacist: "We'd like to use this store as our Bridal Registry."
---
For all those men who say,

"Why buy the cow when you can get the milk for free?"


Here's an update for you.....


Nowadays 80% of women are against marriage.

Why?

Because women realize its not worth buying an entire pig just to get a little sausage!
---
OIL CHANGE INSTRUCTIONS FOR WOMEN

1) Pull up to Jiffy Lube when the mileage reaches 3000 miles since the last oil change.

2) Drink a cup of coffee.

3) 15 minutes later write a check and leave with a properly maintained vehicle.

MONEY SPENT

Oil Change $20.00 Coffee $1.00

TOTAL $21.00


OIL CHANGE INSTRUCTIONS FOR MEN

1) Wait until Saturday, drive to auto parts store and buy a case of oil, filter, kitty litter, hand cleaner and a scented tree, write a check for $50 00

2) Stop by 7-11 and buy a case of beer, write a check for $20.00, drive home.

3) Open a beer and drink it.

4) Jack car up. Spend 30 minutes looking for jack stands.

5) Find jack stands under kid's pedal car.

6) In frustration, open another beer and drink it.

7) Place drain pan under engine.

8) Look for 9/16 box end wrench.

9) Give up and use crescent wrench.

10) Unscrew drain plug.

11) Drop drain plug in pan of hot oil: splash hot oil on you in process. Cuss.
12) Crawl out from under car to wipe hot oil off of face and arms. Throw kitty litter on spilled oil.

13) Have another beer while watching oil drain.

14) Spend 30 minutes looking for oil filter wrench.

15) Give up; crawl under car and hammer a screwdriver through oil filter and twist off.

16) Crawl out from under car with dripping oil filter splashing oil everywhere from holes. Cleverly hide old oil filter among trash in trash can to avoid environmental penalties. Drink a beer.

17) Buddy shows up; finish case of beer with him. Decide to finish oil change tomorrow so you can go see his new garage door opener.

18) Sunday: Skip church because "I gotta finish the oil change." Drag pan full of old oil out from underneath car. Cleverly dump oil in hole in back yard instead of taking it to be recycle!

19) Throw kitty litter on oil spilled during step 18.

20) Beer? No, drank it all yesterday.

21) Walk to 7-11; buy beer.

22) Install new oil filter making sure to apply a thin coat of oil to gasket surface.

23) Dump first quart of fresh oil into engine.

24) Remember drain plug from step 11.

25) Hurry to find drain plug in drain pan.

26) Remember that the used oil is buried in a hole in the back yard, along with drain plug.

27) Drink beer.

28) Shovel out hole and sift oily mud for drain plug. Re-shovel oily dirt into hole. Steal sand from kids sandbox to cleverly cover oily patch of ground and avoid environmental penalties. Wash drain plug in lawnmower gas.

29) Discover that first quart of fresh oil is now on the floor. Throw kitty litter on oil spill.

30) Drink beer.

31) Crawl under car getting kitty litter into eyes. Wipe eyes with oily rag used to clean drain plug. Slip with stupid crescent wrench tightening drain plug and bang knuckles on frame.

32) Bang head on floorboards in reaction to step 31.

33) Begin cussing fit.

34) Throw stupid crescent wrench.

35) Cuss for additional 10 minutes.

36) Beer.

37) Clean up hands and forehead and bandage as required to stop blood flow.

38) Beer.

39) Beer.

40) Dump in five fresh quarts of oil.

41) Beer.

42) Lower car from jack stands.

43) Accidentally crush remaining case of new motor oil.

44) Move car back to apply more kitty litter to fresh oil spilled during steps 23 - 43.

45) Beer.

46) Test drive car.

47) Get pulled over: arrested for driving under the influence.

48) Car gets impounded.

49) Call loving wife, make bail.

50) 12 hours later, get car from impound yard.

MONEY SPENT

Parts $50.00 DUI $2500.00 Impound fee $75.00 Bail $1500.00 Beer $40.00

TOTAL -- $4165.00

BUT YOU KNOW THE JOB WAS DONE RIGHT