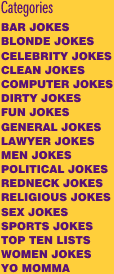 Christmas Jokes
Our Christmas Jokes will be merry and jolly. These Christmas jokes are a perfect laughter gift for anybody. Did we miss a joke to do with holidays that maybe you have? Submit it to us and we'll add it to our Christmas jokes category!
A beautiful innocent young girl wants to meet Santa Claus so she puts on a robe and stays up late on Christmas Eve. Santa arrives, climbs down the chimney, and begins filling the socks. He is about to leave when the girl, who happens to be a gorgeous redhead, says in a sexy voice, "Oh Santa, please stay. Keep the chill away." Santa replies, "HO HO HO, Gotta go, gotta go, Gotta get the presents to the children, you know." The girl drops the robe to reveal a sexy bra and panties and says in an even sexier voice, "Oh Santa, don't run a mile; just stay
for a while..."

Santa begins to sweat but replies, "HO HO HO, Gotta go, Gotta go. Gotta get the presents to the children, you know." The girl takes off her bra and says, "Oh Santa... Please... Stay." Santa wipes his brow but replies, "HO HO HO, Gotta go, Gotta go, gotta get the presents to the children, you know." She loses the panties and says, "Oh Santa... Please... Stay...." Santa, with sweat pouring off his brow, says, "HEY HEY HEY, Gotta stay, Gotta stay, Can't get up the chimney with my pecker this way!!!"
---
Women's Christmas Wishes

Dear Father Christmas:

Now I lay me down to sleep,
I pray for a man, who's not a creep.
One who's handsome, smart and strong.
He's not afraid to admit when he is wrong.
One who thinks before he speaks
When he promises to call, he doesn't wait six weeks.

I pray that he is gainfully employed,
Won't lose his cool when he's annoyed.
Pulls out my chair and opens my door,
massages my back and begs to do more.
Oh! Send me a man who will make love to my mind.
Knows just what to say when I ask: "How fat is my behind?"

One who'll make love till my body's a twitchin'
He brings ME a sandwich too, when he goes to the kitchen!
I wish that this man will love me to no end,
And would never compare me with my best girlfriend.
Thank You in advance and now I'll just wait,
For I know You will send him before it's too late.
---
Men's Christmas Wishes

As I lay me down to sleep,
I pray for a woman, who's very cheap.
One who's sexy, blonde and long.
Who notices that she's mostly wrong.
One who sucks And doesn't speak.
And promises to do so, Once a week.

I pray that she is very randy,
'cause one like that would come in handy.
Opens her leg and lies on the floor,
And once I'm done, she begs for more.
Oh! Send me a woman who will not play with my mind.
Who knows what she wants and that's lots from behind!

One who'll make love till my body's a twitchin'
and brings ME a beer, when she comes from the kitchen!
I pray that she'll last right up to the end,
And would never complain when I do her best friend.
Thanks in advance and you know I can't wait,
So I'll screw all the rest 'cause it's never too late.
---
Three men die in a car accident Christmas Eve. They all find themselves at the pearly gates waiting to enter heaven. On entering they are told that they must present something "Christmassy." in order to get in.

The first man searches his pocket, and finds some pine needles from the family's Christmas tree. He is let it. The second man presents a bow and some ribbon, from presents that were opened earlier in that night. So he is also allowed in.

The third man pulls out a pair of panties. Confused at this last gesture, St. Peter asks, "How do these represent Christmas?"

To which he replies, "Oh, They're Carol's."
---
The Sunday before Christmas, a pastor told his congregation that the church needed some extra money. He asked the people to consider donating a little more than usual into the offering plate. He said that whoever gave the most would be able to pick out three hymns. After the offering plates were passed, the pastor glanced down and noticed that someone had placed a $1,000 bill in offering.

He was so excited that he immediately shared his joy with his congregation and said he'd like to personally thank the person who placed the money in the plate. A very quiet, elderly, saintly looking lady all the way in the back shyly raised her hand. The pastor asked her to come to the front.

Slowly she made her way to the pastor. He told her how wonderful it was that she gave so much and in thanks asked her to pick out three hymns. Her eyes brightened as she looked over the congregation, pointed to the three most handsome men in the building and said, "I'll take him and him and him."
---
After the annual office Christmas party blow-out, John woke up with a pounding headache, cotton-mouthed, and utterly unable to recall the events of the preceding evening. After a trip to the bathroom he was able to make his way downstairs, where his wife put some coffee in front of him.

"Louise," he moaned, "tell me what went on last night. Was it as bad as I think?" "Even worse," she assured him in her most scornful one. "You made a complete ass of yourself, succeeded in antagonizing the entire board of directors, and insulted the chairman of the company to his face."

"He's an arrogant, self-important jerk, piss on him!"

"You did. All over his suit, "Louise informed him. "And he fired you."

"Well, screw him," said John.

"I did. You're back at work on Monday."
---
After her 90th Birthday, Marie found that shopping for Christmas gifts had become too difficult, so she decided to send checks to everyone instead. On each card she wrote, "Buy your own present," and she mailed them early. Marie enjoyed the usual flurry of family festivities. Only after Christmas did she get around to clearing off her cluttered desk. Under a stack of papers, she was horrified to find the gift checks, which she had forgotten to enclose.